Last week we held our annual Hackathon and thought you might like to see it through the eyes of recent recruit Ian Sutton. Ian recently joined our expanding Account Management team, the team responsible for ensuring our existing customers are getting the best out of Microgen 5Series.
---
40 participants, 4 ideas, 2 days, 1 common goal… and countless pastries!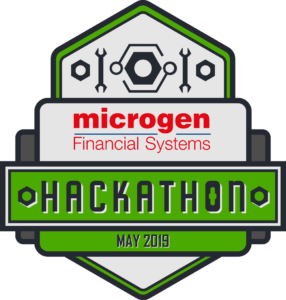 The dust has settled on the 2019 Microgen Hackathon and what an event it was. As a newcomer to the company and being from outside of the industry, I'd never been involved in a Hackathon, so when I was invited to take part, I jumped at the chance and wanted to document my experience.
What I discovered was that it's a fantastic opportunity to collaborate with Microgen customers (some who travelled from halfway across the world!), peers, industry experts, working together to create concepts on functional system improvements and completely left field ideas. We actively seek customer feedback during our development work, but you can't beat an old-fashioned face-to-face sit down to get the best out of people!
We had two distinct themes for the 2019 event, around end-client engagement and improving operational efficiency. Having received great input from customers and staff earlier, six ideas were put forward and, after pitches from internal champions, was whittled down to four to focus on.
I chose to work on an end-client self-service suggestion, looking at ways to improve client cycles around documentation, especially when it relates to compliance activities. Given the timeframe of two days to turn an idea into a working concept seemed impossible. I soon learned that 'impossible' was not a word the team were used to accepting.
Day One
Day one consisted of firstly brainstorming ideas, whiteboarding and creating user storyboards, to allow us to understand requirements from each user point. We appointed our project manager (who begrudgingly accepted!), asked some great questions on skills and capabilities and we all got stuck into our tasks. As a non-technical kind of guy, I worked on designs of our fictitious company and ensuring the final presentation was as impressive as the hack we'd produced.
Morning pastries gave way to coffee, which gave way to sandwiches and some amazing home-brewed chilli-infused pickled onions – certainly warm enough to get the cylinders firing for an afternoon of creativity, design and coding. I also learned that the best Hackathons run on plenty of food!
Post-lunch, the team assembled and moved post-it notes from the original brainstorm chart to a Kanban chart, widely used by Project Managers for an easy overview of where everybody was with progress. It was great to see a number of 'to-do's', move to 'in progress' already.
No time to rest. The team created an intricate web of code that, at the end of day one, was starting to take shape and look like something that we could deliver in 24 hours' time. All rivers, no matter how mighty, start with a trickle, and that's how the close of day one looked. The document interface was forming nicely, and the prototype additions to the 5Series API were beginning to talk and respond how they should. You could tell something great was coming, and it was beautiful to watch.
The evening consisted of a sumptuous curry with everyone continuing conversations on tech, regulations and the market in general. Good food, great beer and exceptional company ensured we were all excited to get stuck into the Hackathon the next morning.
Day Two
Post-pastry and coffee, day 2 was straight into working on cleaning the code, polishing the presentation and practising the pitch. Again, the team worked seamlessly, and, within hours, we'd formed an incredible hack that we were proud to present.
Pitch done, the business leaders huddled and conversed to decide the winners. What was moments felt like a lifetime. Excitingly, the documentation hack team I was part of was crowned one of two chosen winners on the day, sitting jointly with an equally brilliant team that worked on a concept of improving operation efficiency in an area of 5Series and, whilst it perhaps lacked the sparkle of our API work, by sheer reduction of effort, this one definitely caused excitement amongst the crowd!
The other two ideas were just as incredible. One worked on was some outstanding prototype work on other API integrations, where the team working on this even managed to present technical poetry in motion via an app to show real-time communication between 5Series and third-party systems. Last but certainly not least was an incredible effort to automate electronic questionnaires, which would reduce time required in the system from an administrator. It's all about ease of use, as we know!
There wasn't one team that presented anything less than spectacular, especially given the timeframe and, sitting near the Product Management team, you can see, hear and feel the passion in them when they speak about getting the fruits of the Hackathon on the roadmap. 5Series is already an extremely capable system, but with the minds we have within Microgen (be it a customer or colleague) collaborating, things are only going to get better.
The Hackathon ended with teams congratulating each other and discussing their respective concepts over a beer or two, before we all said our goodbyes for the weekend. It really was a superb event and one that I was both proud and humbled to work with such engaged, passionate colleagues and customers.
I cannot wait for the 2020 Hackathon and in preparation, I've picked up a copy of 'coding for dummies' and will be binge watching the Matrix and Mr Robot.. I mean, how hard can it be…
---
Mr Sutton is an Account Manager at Microgen Financial Systems and realises that coding is definitely not easy, though hopes to awake his inner-Neo one day!
You can find Ian on LinkedIn